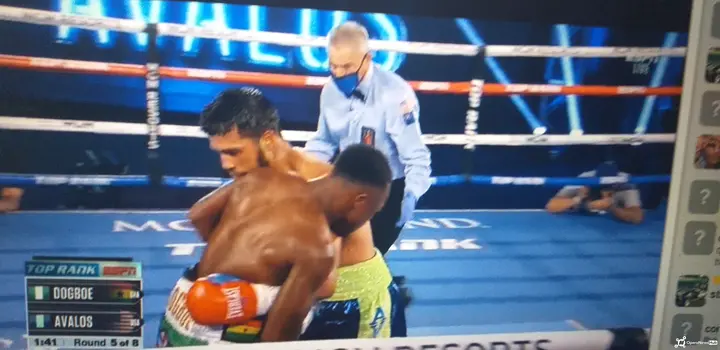 Isaac Dodge, the royal storm has won his fight against his opponent Chris Alvalos in their 8 round featherweight fight that took place in the early hours of this morning.
The fight that took place in the Bubble,MGM grand Arena in Nevada, USA was one of the undercards of the Oscar Valdez vrs Jayson Velez's 10 round superfeather weight fight.
G
hana's Isaac Dogbe was the former WBO junior featherweight title holder but was twice defeated by Emmanuel Navarrette whom he lost his title to in May last year.He decided to move up to fight in the featherweight division..
In the first to the 3rd round, Isaac was a bit slow and match rusty as a result of being inactive for a long time but showed glimpses of ending the fight early after he gathered momentum.
In the 4th to the 8th round, he took to the fight his opponent, chasing him and landing some heavy right punches that led to Oscar clinching most of the latter rounds. In all the 8 rounds, the royal storm Dogbe had thrown 3 times more punches than his opponent.The fight ended 2.28sec of the final 8 round.
In an interview after the fight, he said he had been working hard for a returned to the ring and thanked God , ESPN, his family and trainers for his victory.