He starts by reiterating the number of Active cases that are really declining. He then talks about Borders reopening. He specifies Airports are Opened. That's a good news but there are Conditions.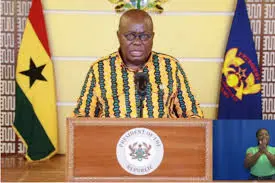 He says that tests will be conducted on passengers older than 5 years and results will be announced within 30 minutes. That's really glad because that's really a short test.
Those who are going by air are now free. He says that Kotoka International Airport is now opened and free. He says that those who test positive for the COVID-19 cases will be denied from their flight.
He also talks about School reopening. Schools will be reopening from 5th of October. Till December they will be Opened. He says S.H.S 2 and J.H.S 2 will be Opened and freed. All schools will be Opened for them to finish their syllabuses.
He postpones other classes till January. They will reopen then. He promises one free meal for J.H.S 2 students and S.H.S 2 students. That's really a good action taken by the president.
It's a considerable action really taken. This was the head and tail of his address. Those news are cheerful for us.